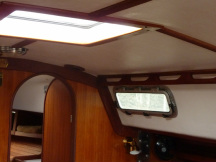 Over the years I have owned 31 Bomar portals in different J/Boats. They have not all leaked, but enough of them do to keep me from leaving our cushions in place when leaving for several days. Also, just keeping water on the outside is enough work without having to worry with leaking portals! I checked with Pompanette to get replacement portals, but the price was prohibitive so I have been living with this leakage issue. A few days ago I ran across an advertisement for replacement frameless lenses for Bomar portals supplied from Steve Worsfold from Deluth, Minnesota. He is making frame less portals from 3/8" acrylic with custom hinges to adapt into the original un-modified Bomar boat side of the frame. After a couple of conversations with Steve, I measured each portal (Bomar portals are all a bit different from each other) and sent in an order for a full replacment kit of 11 portals. Steve received my order on Monday and I got shipping confirmation and a tracking number on Thursday. Not bad for custom work!
---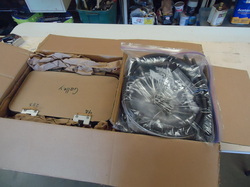 This is the kit as it arrived from Steve. Got it on Monday after ordering on the previous Monday. Packed well with no damage at all.
---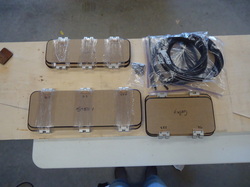 Here are the parts laid out: 4 large portals, 4 medium portals, and 3 of the small portals. These are the same portals used in the J/40, J/37, J/37c, and the J/34c. I am sure many others of this era use the same, but I know these from personal experience. Included in the kit are all new portal windows, new gaskets that fasten to the frame, hinge pins, and very clear instructions. This coming weekend I will install as many as I have time for and will post pictures of how it goes.
---